Discover more from Hu Cares
JaneThoughts™
Hu Cares | Going to the forest
1996, Camp Shantituck: the shaky beams of six flashlights are bouncing around the waxed canvas tent ceiling. I'm cold and the ground is hard and it smells musty in here, but I'm mostly fine until the shrieking starts. One girl points out a bug with a million legs; there's some joy in our mass terror as we discover several more. Our adult chaperone, someone's mom I no longer remember, tells us it's a Daddy Long Legs and to just go to bed, but I don't sleep the rest of the night for fear it could crawl on my face and…what? I'm not really sure, but the crawling seems self-evidently bad.
That was the beginning and end of my childhood camping experiences. After that exciting weekend at Shantituck, my Girl Scout troop opted for decidedly indoorsy activities: overnights at science museums, watching Boy Meets World together on Friday nights, the usual cookie-selling. This was great for me; I spent most of my time reading, playing Commander Keen, or watching Unsolved Mysteries with my mom. I loved going on adventures, but only if they didn't require me to leave the house.
There's really no rhyme or reason to why I got into backpacking. I'm still confused about how it all happened, but I remember getting fitted for a pack by a creep at REI who kept touching my lower back and talking about "women's breasts" as the reason there were women-specific packs. Next thing I know, I'm wading across thigh-deep water in the swollen San Lorenzo river, bushwacking through some bramble, then wading through the river again because we didn't read the map right. But no Daddy Long Legs in the tent for that overnight, and wow, was the next day magic: had fries always tasted this good? Was my bed this soft all along? And as miserable as it was to slog through dense journal articles, the weight of it all felt lighter than before. At least I wasn't carrying a pack and getting sunburned to hell.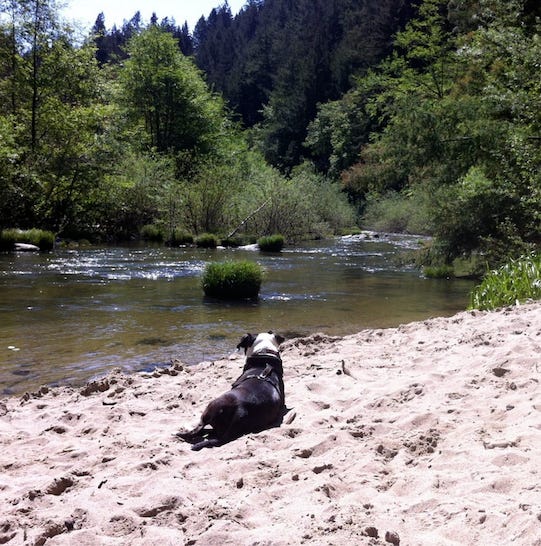 (Maeby, lounging on the sandy beach near our river crossing.)
The discomfort cracks me open every time. I see my impatience, my need for control, the mental weakness, the worry. Indoors or out, there is always something to worry about: the email I "need" to reply to, the credit card bill, whether I locked the front door, if the bear hang will be there in the morning, what happens if someone I love dies, will this bus get me there on time, we have a 3000 foot pass to hike tomorrow, should I quit my job, my foot hurts but just slightly, what's for dinner, ad nauseum. The difference is that the outdoors forces me to think about what's in front of me in a way nothing else can. You're not gonna pay that bill or answer that email if you don't make it out of these woods, so just concentrate on what you need to stay alive and you'll figure out the rest later. I see the worry for what it is: just a running tab of the things my brain thinks I should consider, but nothing worth getting hung up on for too long.
Every time I return from a trip, I am filled with gratitude. For running water, for the Great Indoors, so devoid of wind, and so effortlessly bright even once the sun has gone down. For chairs (what an invention!), for music, for sponges and dish soap and sinks, for all the clean socks I have at home that aren't this salt-encrusted pair I've been walking in for days. And so on the days (or weeks) living indoors doesn't feel easy, I long for a trip that will leave me with the perspective that reminds me I live a sweet little Nerf-y life.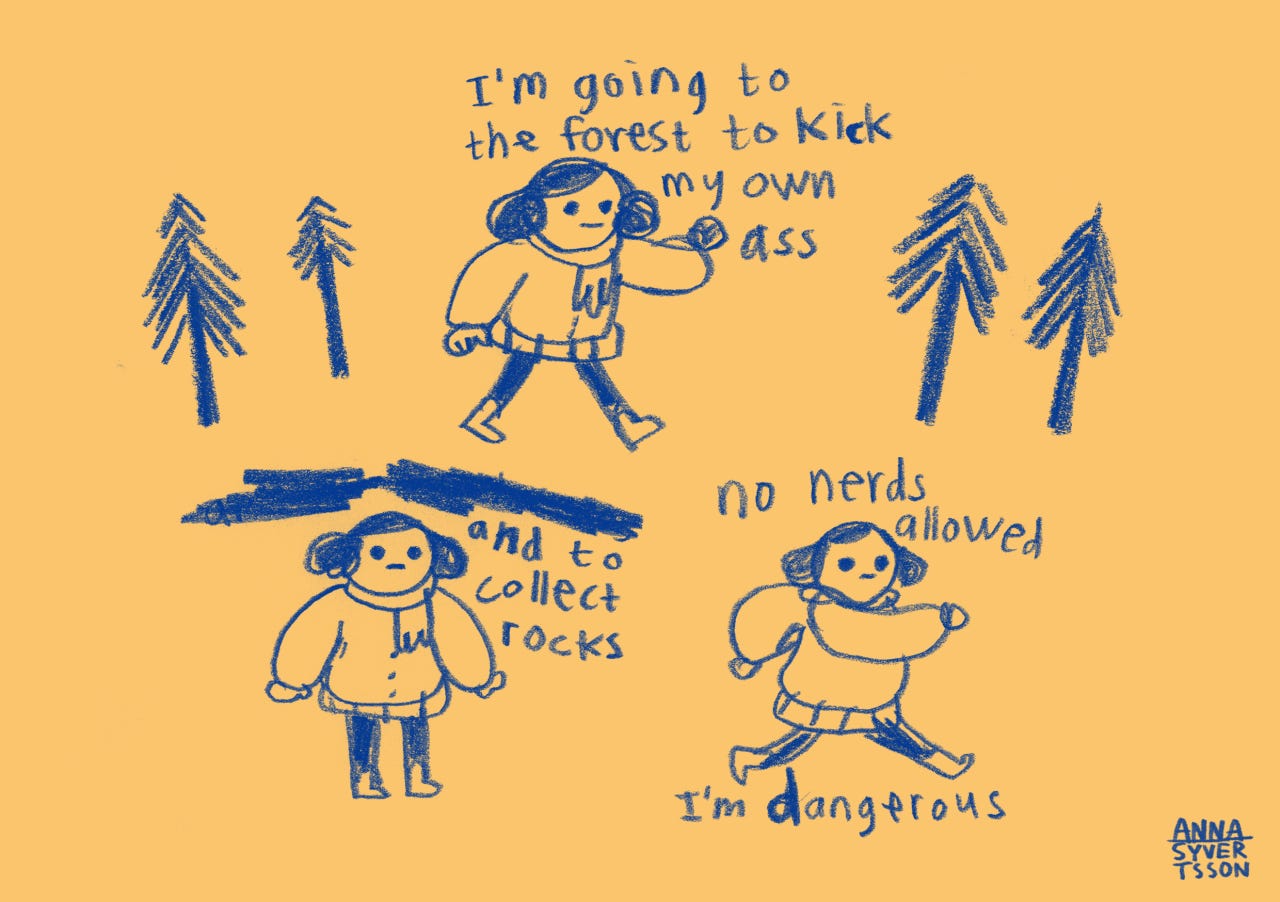 (
Comic by
Anna Syvertsson
. This was the theme I adopted for my first-ever solo backpacking trip, in which I went to the forest to kick my own ass and think about whether I actually wanted to quit my job and write full-time. The answer was yeah, duh, I most definitely did.
)
This is what I have trouble describing to people — ok, I'll be honest; specifically, my parents — about why I choose to do something my mother describes as "self-torture." It's a privileged position to be in, to manufacture these adventures when 2 billion people still don't have the option of using a toilet, and migrants literally hike for their lives. My parents spent years living in Chinese labor camps during the cultural revolution; when they came to this country, they probably didn't imagine their daughter choosing to rough it, for purported fun.
Taking outdoors time is a fundamentally selfish act. I've got a permit to hike the Washington section of the Pacific Crest Trail this summer, and I'm already seeing how much my family is worrying and will worry about me. While I'm gone for a month, N is going to take care of our dog, and I know I'm going to be a less attentive partner the nights and weekends I'll be researching gear and planning logistics. This thing that I imagined as a journey for myself, meant to be traveled by myself, turns out to be bigger than me, even when I don't want it to be. I am still making sense of it all, hoping this new kind of discomfort teaches me something worthwhile.
---
Unsolicited recommendations
Gretchen McCulloch's Because Internet, a book that gives the study of internet culture the weight it deserves. We're watching language and social norms change in real time online, y'all!

Raphael Bob-Waksberg's Someone Who Will Love You In All Your Damaged Glory, a book of short stories about…love, I guess? (If you've read his Rufus essay, N has started referring to himself as "Man Monster.")

Hankies. I used to use like 600000 tissues a day and I just started carrying around a hanky to blow my nose into. I also cried a lot into it while watching Little Women (2019). Truly life-changing.

The board game Wingspan — thanks to my friend Mara for introducing me to it! The illustrations are gorgeous, you get to learn Bird Facts™, and the game pieces include little eggs that look like Cadbury mini Easter egg candies. What's not to love?
---
Stuff I've written lately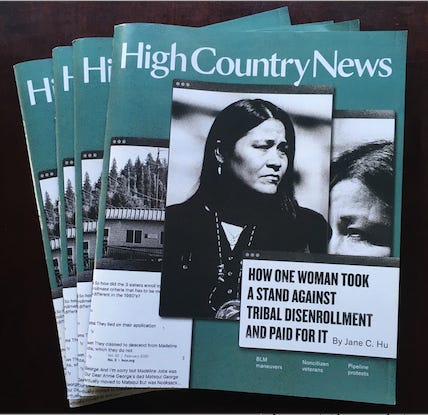 Over three hundred members of Washington's Nooksack Tribe have been grappling with disenrollment, or removal from their tribe. I wrote about Carmen Tageant, a former tribal council member who was cyberbullied and recalled from the council for standing up for those disenrollees, and what her case tells us about disenrollment and tribal power. (High Country News)
The latest coronavirus has dredged up some centuries-old anti-Chinese racism. (Slate)
What's a sensitivity reader and why would you ever consider working with one? (The Open Notebook)
I went through two decades worth of photos and wrote about the subtle changes in the way we take photos in the smartphone era. (Slate)
Google Maps Street View can take you back to a specific time and place — and some people are even finding their now-dead loved ones memorialized on their old streets or in front of their houses. (Slate)
I have a chapter in The Craft of Science Writing, The Open Notebook's new anthology! (There's also a chapter with an annotation of a pitch I wrote.)
You can get a copy via Indiebound, Seattle's Elliott Bay Book Company, Portland's Powell's, Barnes and Noble, or, if you absolutely must, Amazon. And if you'll be in Seattle this Thursday, February 13th, we're doing a book launch party at Elliott Bay. You can RSVP here! There will be snacks and science writers (i.e., all the best things).
---
Think someone in your life might enjoy this email? Please feel free to forward it to them!
…or if you were forwarded this email and like what you see, you can: