Hu Cares | Doing the least harm
Last week, my parents asked what I want for Christmas. Usually, I say I don't really need anything, but this year, I mentioned that I was thinking about getting a new computer monitor, and my dad was on it. He loves shopping for the fanciest new gizmos, so the day after our phone chat, he texted me saying he'd ordered me a very nice monitor, which would be delivered by Amazon within the next 24 hours.
The monitor was indeed really nice — it's almost as big as our TV. It was so nice, in fact, that my aging MacBook (purchased in 2014) couldn't connect to it, so I went in search of the right dongle. A breakdown of the process:
Ok, Google says that Walmart has this dongle for $9.39. But I don't want to support Walmart.

Amazon has it for $15. But I don't want to support Amazon either. (Meanwhile — and I swear I am not making this up — NPR was on in the background with a story about the Atlantic and Reveal's latest investigation that found that Amazon fulfillment centers' rate of injury was more than twice that of the industry's average.)

I guess I could go to a physical store for it. I don't know of any locally-owned electronics stores, but there's OfficeMax, which is the most on-the-way store between the two places I have to go today. But is the additional stop worth the gas? Would it be more impactful to go to the store, or order online? How does OfficeMax's treatment of employees compare to Amazon's?

<standing in front of a wall of dongles at OfficeMax; salesperson tells me that what I'm looking for is only available online> So I have to buy it online, ugh. OfficeMax's price is $40. Apple has a version, too, but it's $90. Best Buy has one that's $70. Are any of these companies less problematic than Amazon?

Amazon's got to be losing money if they're selling this adapter for $10 when everyone else is selling it for at least four times that. It's Amazon's whole business model to lose money on items in hopes of cornering the market, killing the competition, and then being able to drive up prices again. So in some small way, I'm kind of sticking it to Amazon by making them lose money? But I don't think it really works that way, since they don't know the motivation behind my purchase.
And then I realized it was Cyber Monday. I don't believe in astrology in any deep way, but I'm a Taurus, which means I'm supposed to be stubborn, bull-headed. The easiest way to get me to do something is to tell me to do the opposite. So when The Man invents a commercial holiday to get us to shop online, there is no way in hell I'm going to buy something online on that day, even if I actually kind of need it.
Do I even need it? Technically, no. I have a shitty old monitor I got on Buy Nothing (if you don't know about Buy Nothing, check it out!) and it's doing just fine, though sometimes the connection is kind of wonky and the display dances with dizzying little squiggles.
If any of you watch The Good Place, you know that the character Chidi Anagonye is a moral philosopher who's famously bad at making decisions, weighing all his options and overthinking them until he gets a stomachache. I often feel this way before making any purchase, no matter how minor. Everything I do has spiraling consequences, and some of those consequences are inherently unknowable, which makes it hard to make a decision about anything. I don't want to support big companies that have a history of exploiting workers or normalize one-hour shipping or change the looks, politics, and operations of cities and towns where they're headquartered. I want to tread lightly in our world; I don't want to use more than I need, or to create demand for the things companies tell us we need.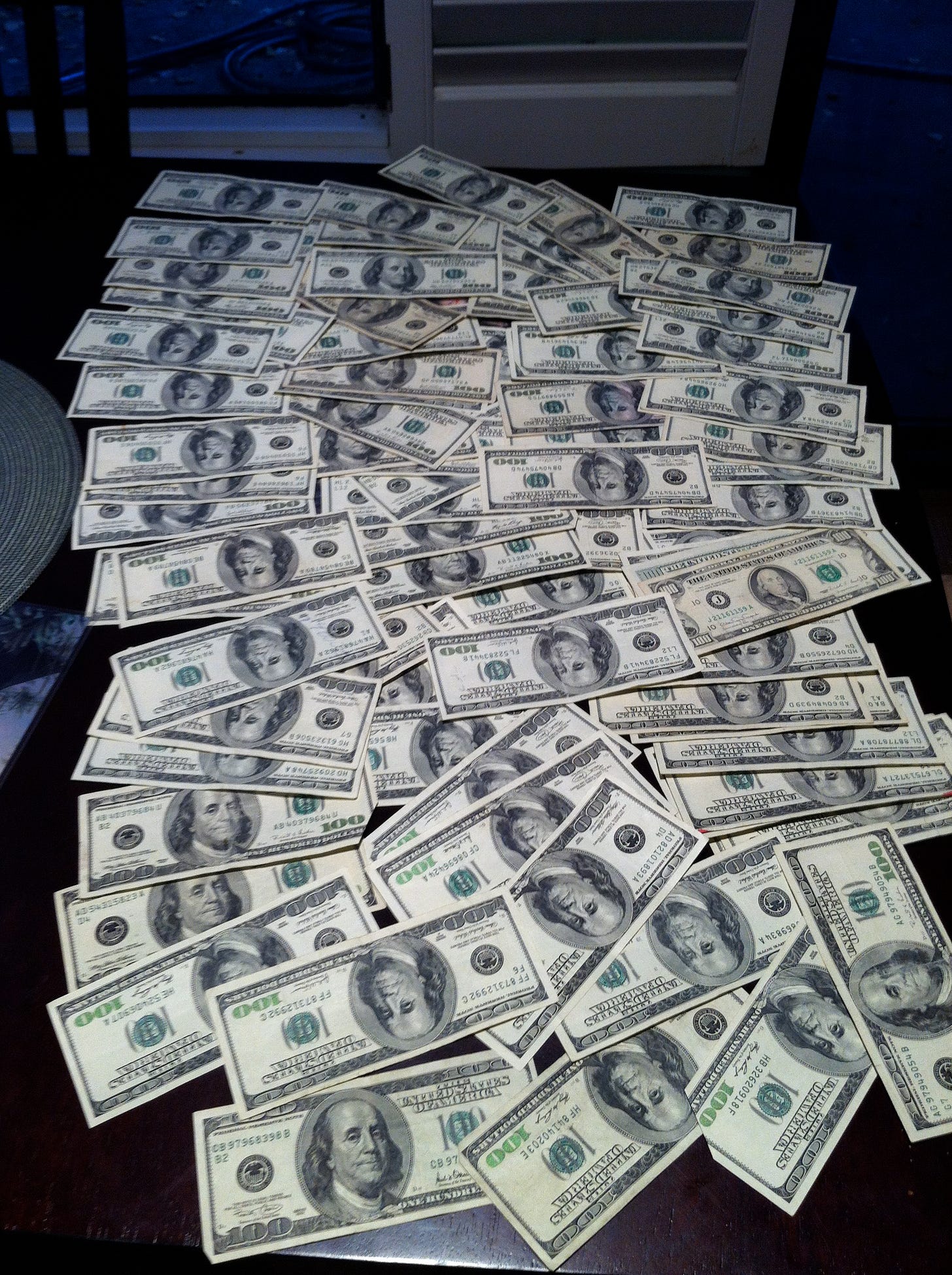 Right after the Occupy movement started, I tried to close my Bank of America account. The teller told me they'd charge a fee to transfer my money to another bank, so I huffily withdrew all my savings in cash and took it on an hour-long BART ride home. Not my wisest impulsive decision.
But I'm also a person on this planet, which means I forgo my own values frequently to live my life. I dislike giving money to telecomm companies and don't want to support the rare metals mining industry, but I still use a cell phone. I have concerns about Facebook, but I still use Instagram and WhatsApp daily. I'm wary of supporting the exploitative gig economy, but I sometimes still use Lyft or Caviar. I could decide to forgo my phone, opt out of social media, and never use app-based services, but each of those decisions would come at some kind of a personal cost — convenience, time saved, the strength of my relationships. I'm privileged to even have a choice in some of these things; other people may not be able to afford opting out of, say, shopping for affordable deals on Black Friday or using InstaCart.
Sometimes the consequence is just joy. I want to get a Christmas tree this year, because for once, I live in a space big enough to support one. (Another source of guilt, but I digress.) Would it be better to get a plastic one that I can use for years, or to buy a fresh tree? Or should I just forgo it entirely? How much should my own happiness factor into decisions like these? I'm not even sure my personal decisions even matter; companies have outsize influence and impact in a way my own puny decisions never could. Or is that just a convenient excuse for myself?
It's very easy to make excuses for ourselves. A couple months ago, I heard an environmental activist say that his frequent travel and documentary-making in far-flung places was justified because it could convince people to change their minds about climate change. I think about this every week or so, and try on similar justifications I might make for my own actions: that my writing (which, of course, necessitates a gigantic monitor and the appropriate dongle) will change people's minds about some important issue. I can never work out whether my deep suspicion of that activist's justification is cynicism or realism. It's easier to be a cynic than it is to really believe in change, but it's also easier to have an inflated sense of importance than it is to own up to the fact that you're making excuses for yourself. Who knows.
I frequently fantasize about having all my decisions made for me: what to eat for dinner, what to wear, what the least harmful decision is in every scenario. Life is easier when you defer that responsibility to someone else. (I went on a vacation this summer to a friend's lakehouse, where she planned out all our meals and outings and it was the most relaxed I've felt in years.) But I don't think there are any easy answers about how to do the least harm, especially when it comes to the holidays, which have become all about excess. The only thing I can do is to take responsibility — to keep paying attention, to keep thinking myself into these circles. To think about where my money is going, and not immediately forking it over to the entity that's asking for the least amount and for the least effort. To support the people who are working to enact systemic change, so our options are less terrible. And to return that damn monitor after all, because the dongle it needed actually needs yet another dongle to be functional, and ain't nobody got time for that.
---
Unsolicited recommendations
---
I wrote about…
---
Think someone in your life might enjoy this email? Please feel free to forward it to them!
Stumbled upon this post and want to get it in your inbox next time?